Blind cave dragon
Made from Clay, steel wire, latex, leather and epoxy.
Sits 3.5 feet long and 2 feet wide
Spoon Full Of Earth
Forged sterling silver and copper spoon. Hollow spiculum handle, with silver wire piercing through with copper leaves and two tube set cubics stones.

18cm long
Light Sight
Hand held copper, and sterling silver candelabra. I used various smithing techniques, including a hollow constructed handle, forged copper leaves, a copper set magnifying lens, and bees wax candles set in sterling silver holders.
Stands 45cm tall

An Old Soul
21x22 inches.
Deer antlers, clay, and hard cardboard. Dry brushed with acrylic and sealed with clear coating.
Fur not attached.
$650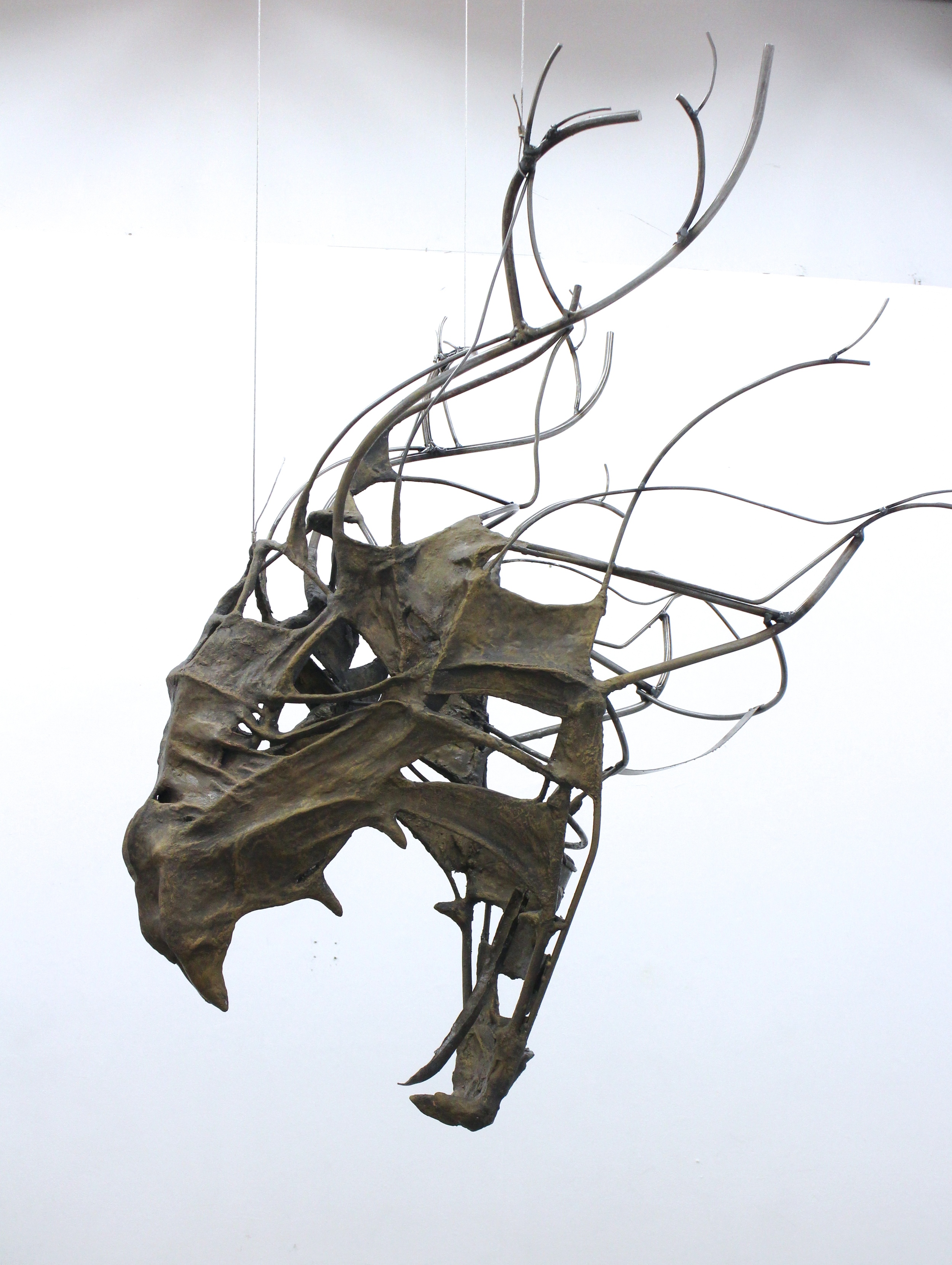 The Greeter
3Ft welded Steel creature with clay and plaster. Bronze coat finish.
Suspends from ceiling with steel cables.
$2500
A Gift From Poseidon
Hand forged red brass bowl and stand. Raising techniques used to create the Torus and spiculum stand. Gold Leaf on inside of Bowl and on hollow form pod. Heat treated to create black patina.
Stands 13cm tall and 16cm wide

Orb-Lit
Hollow constructed box necklace, made from sterling silver, 14k yellow gold, white sapphires, and a LED light set within.

3cm wide, 6cm tall
Night Life
Hollow forged, glowing jellyfish box/broach. Made from sterling silver, 14k gold with set moonstones. LED light is set within. 
4.5 x 4.5cm
Foldable pocket knife
Hand forged sterling silver blade with brass inlay in Pine handle.
A Wanderer's carrying case
Pre loved leather bag, where I aged the leather, burnt in a compass design and sewed on an antique crystal piece for its center.
$500
Viking crown
Hand cut/fabricated crown; red brass, leather, and garnets.
$750
Winter's Rose
Hand forged copper and red brass rose.  
18cm long
Elvin Quiver
Hand constructed, riveted quiver made from brass, leather and hard poster tubing. No heat used, all cold connections and hand tools.

Stands 55cm tall
Diabolical Monocle
Collapsed retractable monocle, hand constructed from dix gold and sterling silver, set with a kaleidoscopic lens, six glass stones, attached by leather and buckles.
Coru
Brass hollow, engraved dagger, set with a synthetic ruby.
20cm long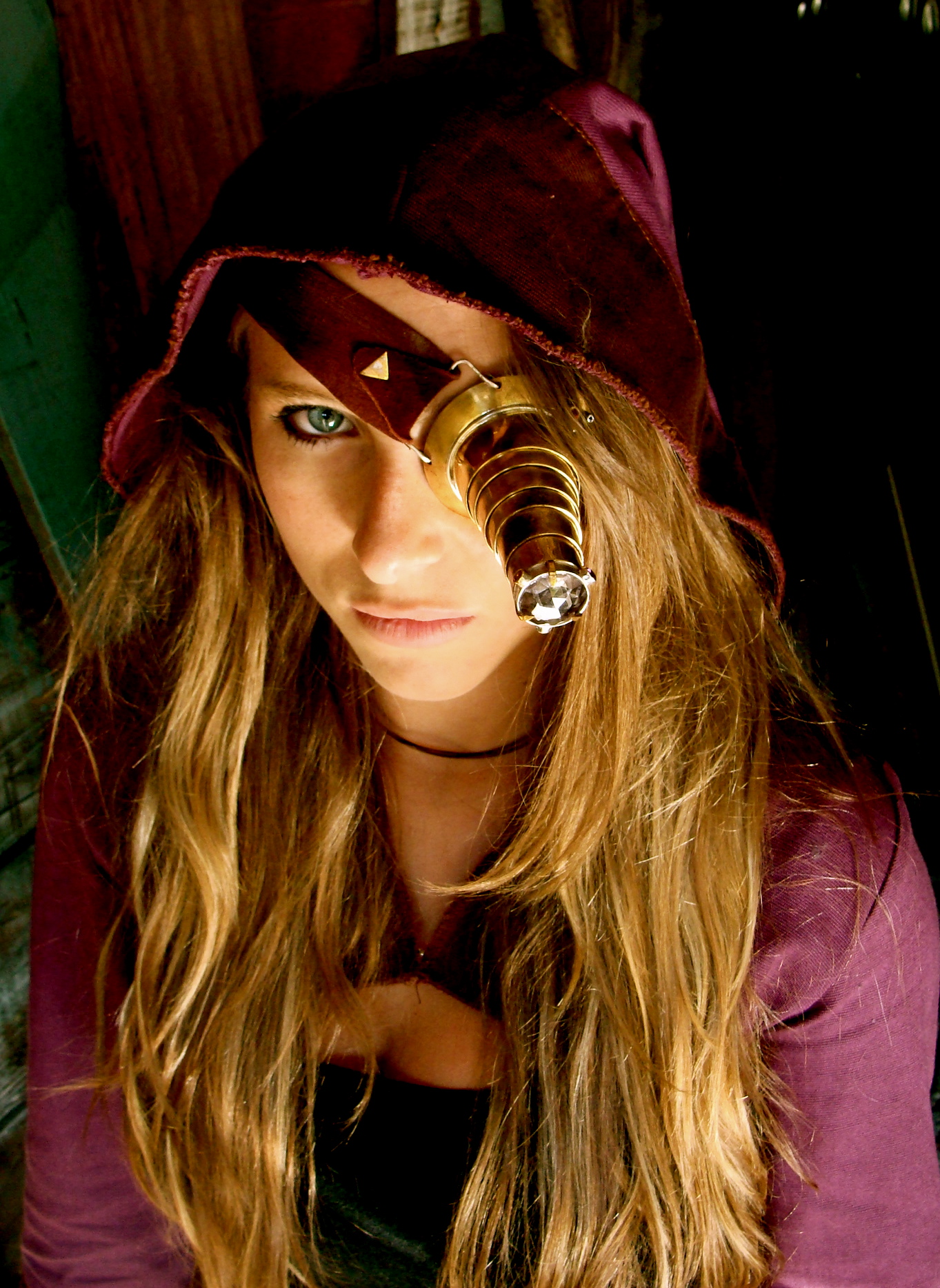 Moths Masquerade
Hand constructed and riveted sterling silver and copper mask with movable wings. Six set stones of quarts and cubic zirconia.

Coru
Ocular Vision
Sterling silver, hand constructed monocle and chain, set with three faceted glass lenses, and a brilliant Zircon stone.

Stands 5cm tall, 5.5cm wide
Moon Dwellers Music Box
Hand constructed copper and brass box . Lid containing a secondary box on the inside.


7cm x 4.5cm
Tink
Dragon sculpture, constructed from steel, iron, and aluminum. A process of plasma cutting, welding, and and riveting were used. Found objects such as a voltage reader, a leather dog collar, a sprinkler head, and rusty chain were added.

The sand Hand
Hand sculpture made from clay then cast in concrete.
Roughly 35cm long x 14cm tall
A Friend From The Forest
Tree mask constructed from plaster bandage, acrylic, straws, copper wire, moss, sticks, beeswax candles and a glass monocle lens.

Where There be Faeries?
Constructed faerie tree village built entirely out of the organic foliage of the backyard forest, minus some tooth picks, quartz crystals, cardboard and epoxy. 
Stands roughly 65cm tall
Sculpture