Bronze, riveted red leather sandwiched between two layers of bronze, set with four pieces of Woolly Mammoth tusk, and a black spinel set in a piece of 12,000 year old Irish Bog Oak.
Octahedra
Sterling silver necklace set with an Octahedrite Iron meteorite slab, moldevite, and 6000 year old Irish bog oak.
Starship
Sterling silver set with two meteorites
Bronze set with a piece of carved 12,000 year old Irish bog oak.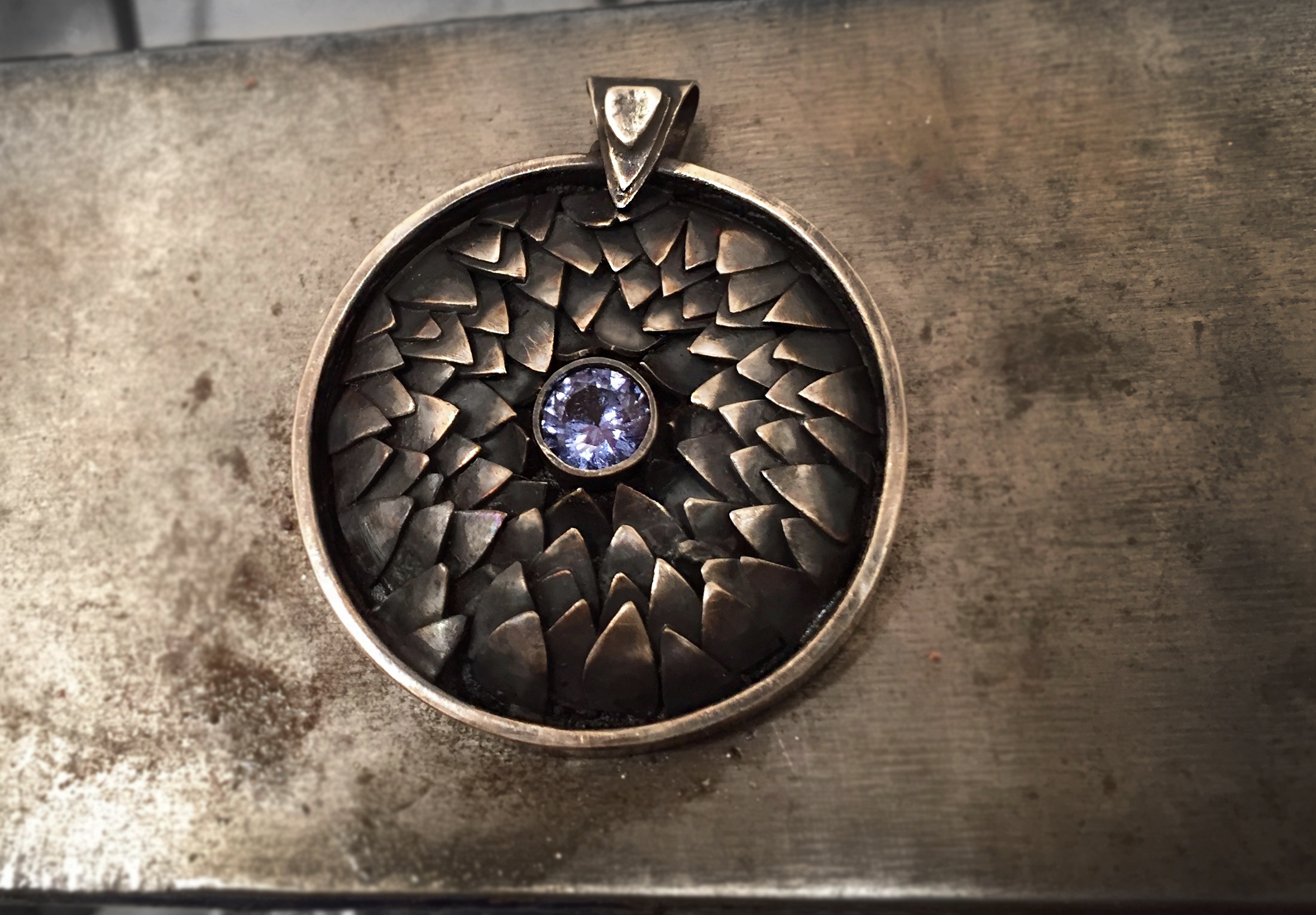 Eye of the Ice Dragon
Hand cut, forged and soldered sterling silver scales. Encased in sterling silver, and inset with 7mm london blue topaz.
1-1/2" wide.
Earth to Sky
Sterling silver and 22k yellow gold set with 6000 year old Irish Bog Oak and a Meteorite. Written in Old Irish spells 'Earth to sky'.
Sand to Sky
Bronze Cobra–hand forged/formed set with a Saharan Tektite: melted sand formed by the impact of a meteorite.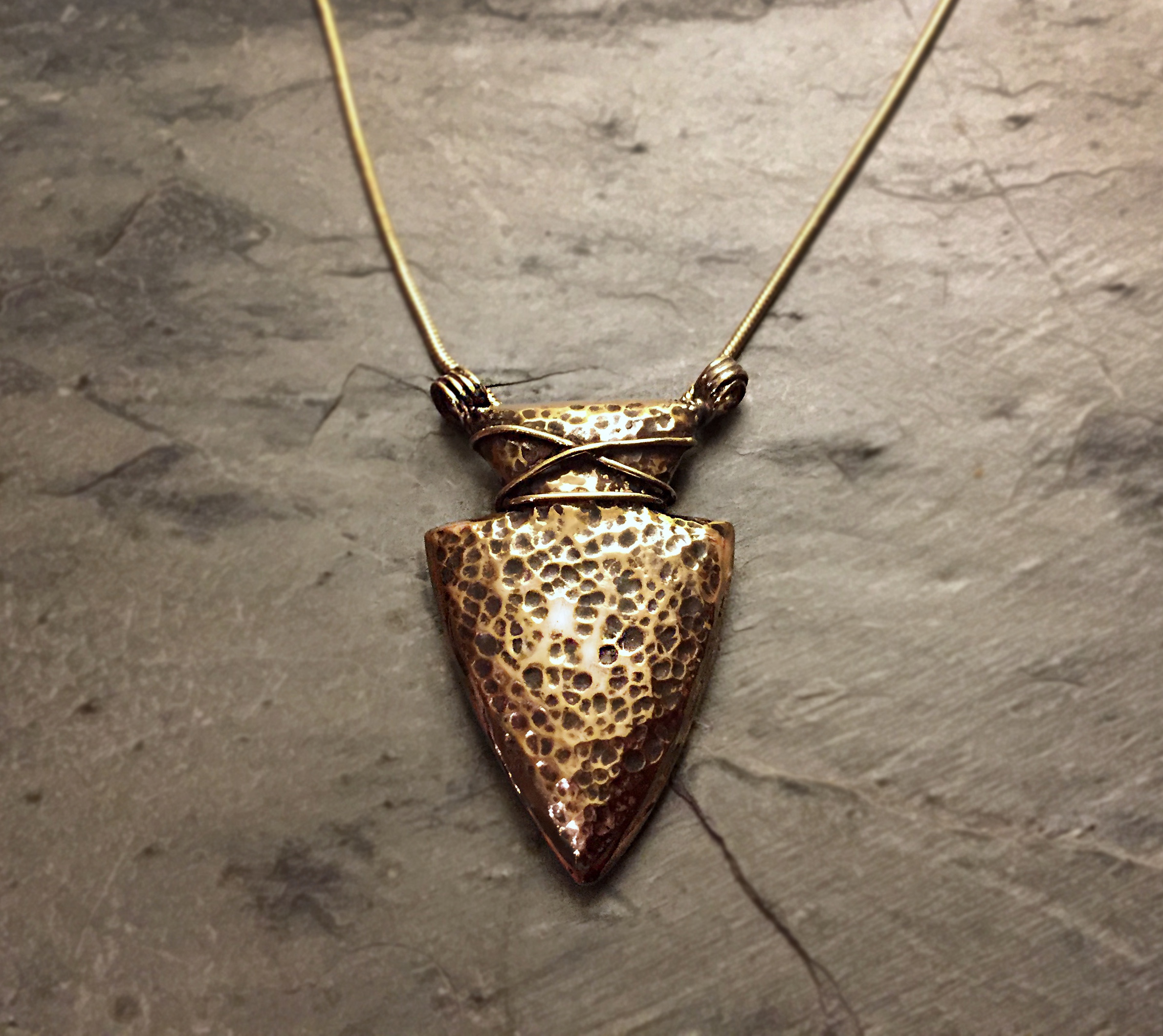 Memories Of Maples
Red brass maple key, set with a champagne cubic, and a rose gold chain. I was Inspired one crisp October morning when one gracefully floated its way down on my walk around killarney Lake, Bowen island.
5cm long
$150
Hand Grown
Hand forged red brass and silver rings, with CZ stone setting.
left: $175
right: $85
Sparkle in the woods
Sterling silver, 14k gold, champagne diamond, two blue sapphires
Prehistorica
Wooly Mammoth Tusk, White Topaz, 18k gold chain, red brass antlers.
Hand forged/fabricated
$185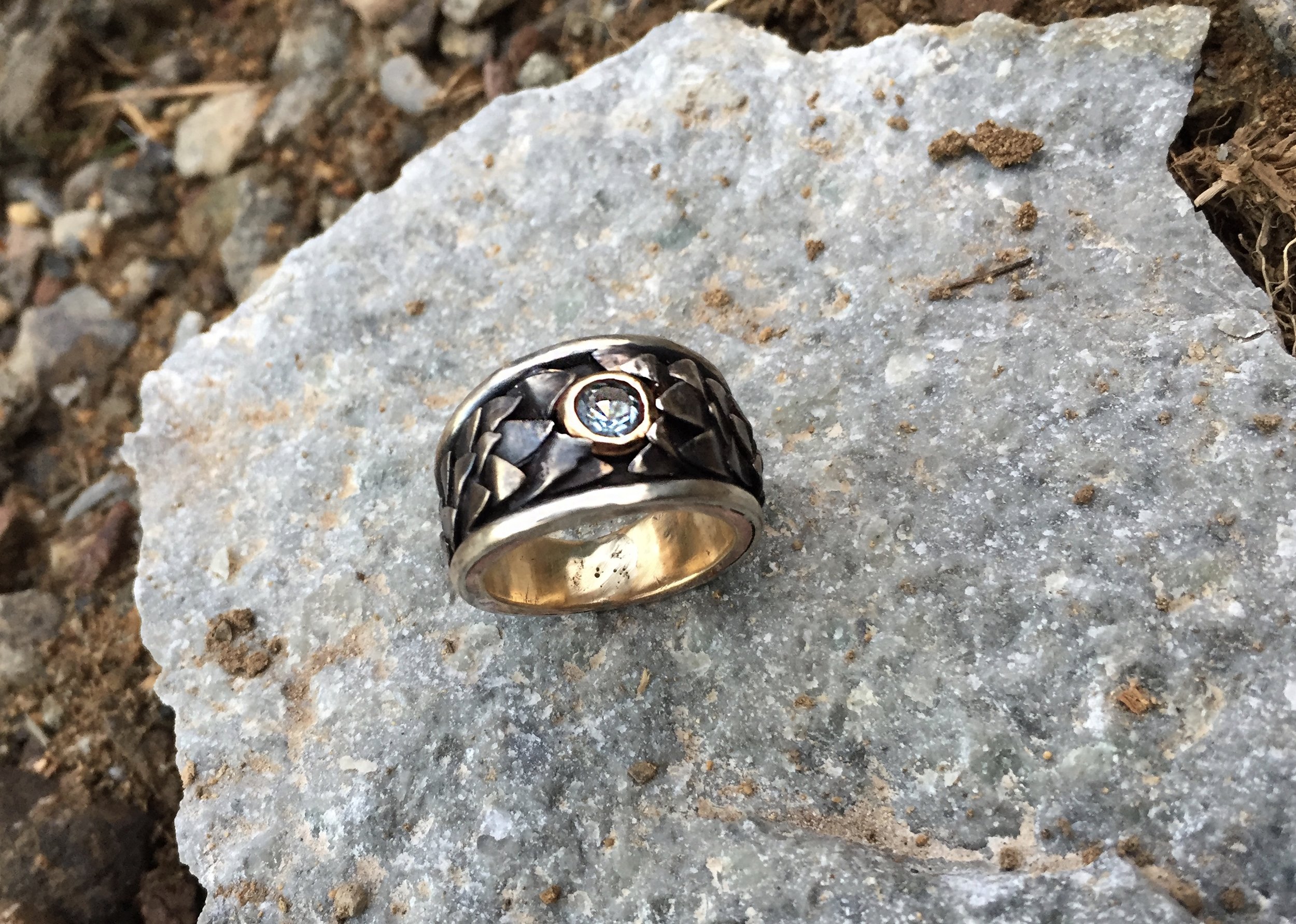 Mammoth
Woolly Mammoth Ivory ring.
Sterling silver, 14k yellow gold, carved mammoth tusk, red brass.
Satin, and hammered finish.
Size 7
$250
Reticulated red brass, and London blue Topaz.
$185
Winter's gift
Sterling silver, pink hand cut quartz, necklace.
1x5 inches
$350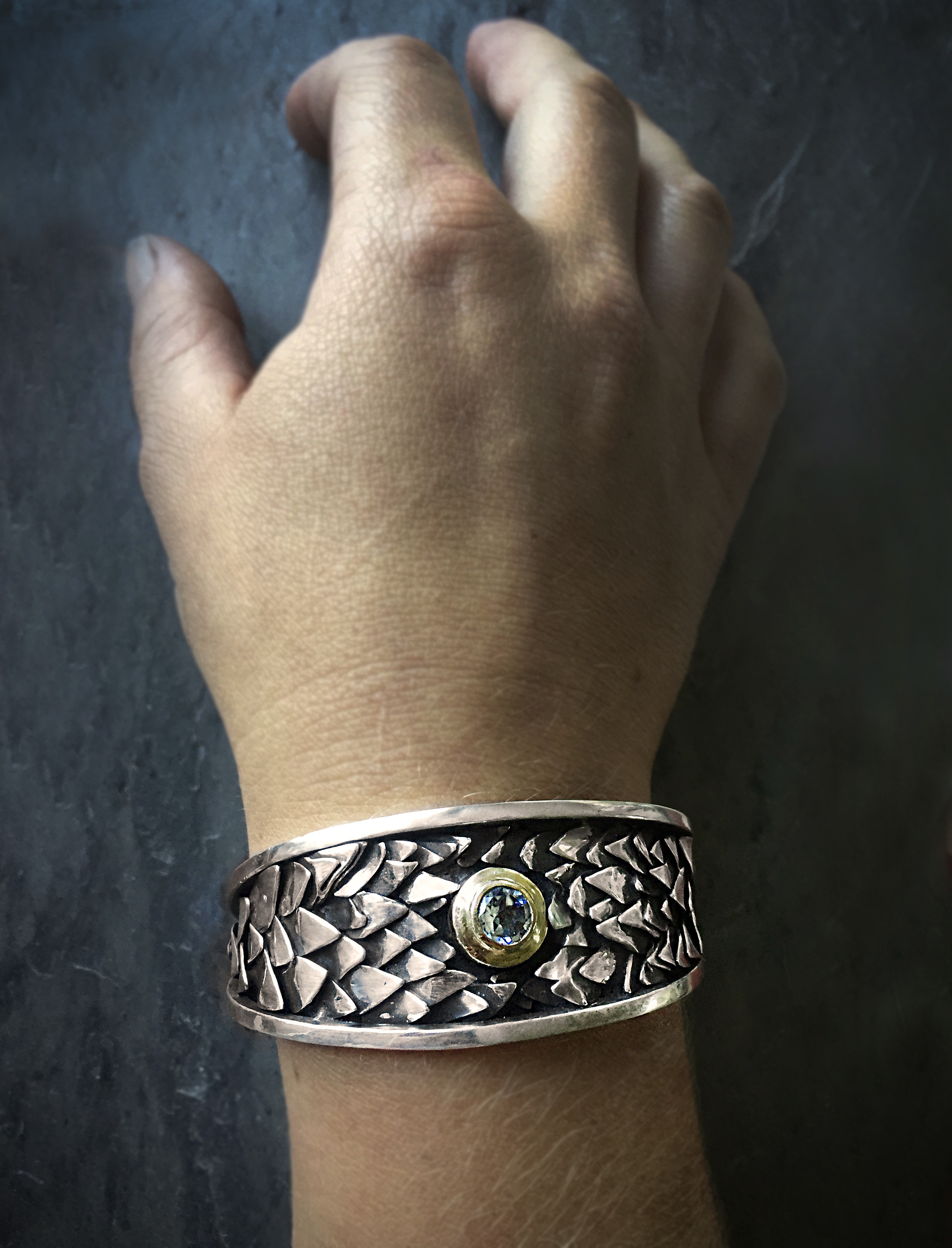 Konungr
Mammoth tusk, Cornflower blue lab sapphire, sterling silver, 14k gold, red brass.
All hand crafted and forged with a torch and hand tools.
$380
Adornment of Antlers
Sterling silver, red brass, garnet; hand fabricated
$300
Dragon Shield
Not cast. Around 50 hand cut sterling silver scales encased in a sterling silver frame. Red brass outer casing. Mammoth tusk set in center.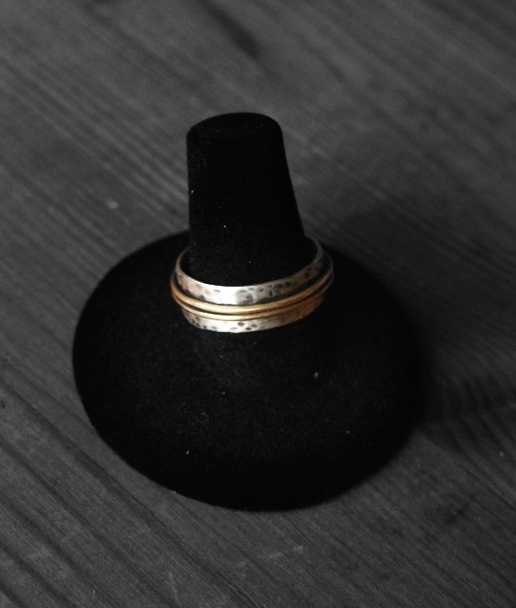 Seamless
Sterling silver band ringed with red brass. Hand forged/fabricated
$85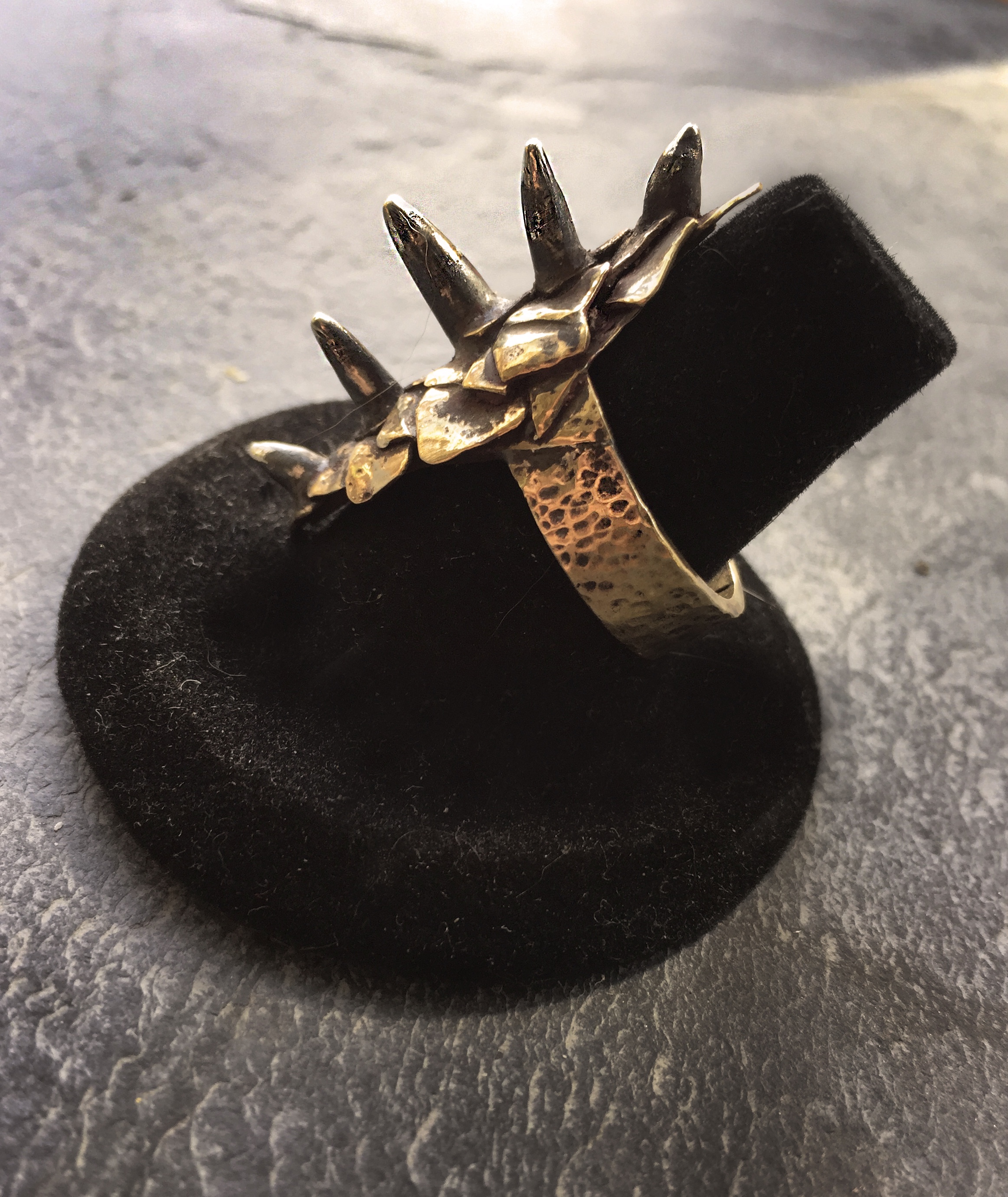 Dracarys
Dragon inspired ring. Not cast, but hand formed from Brass and sterling silver.
Name 'Dracarys' from Game of Thrones meaning 'fire' in High Valerian.
$200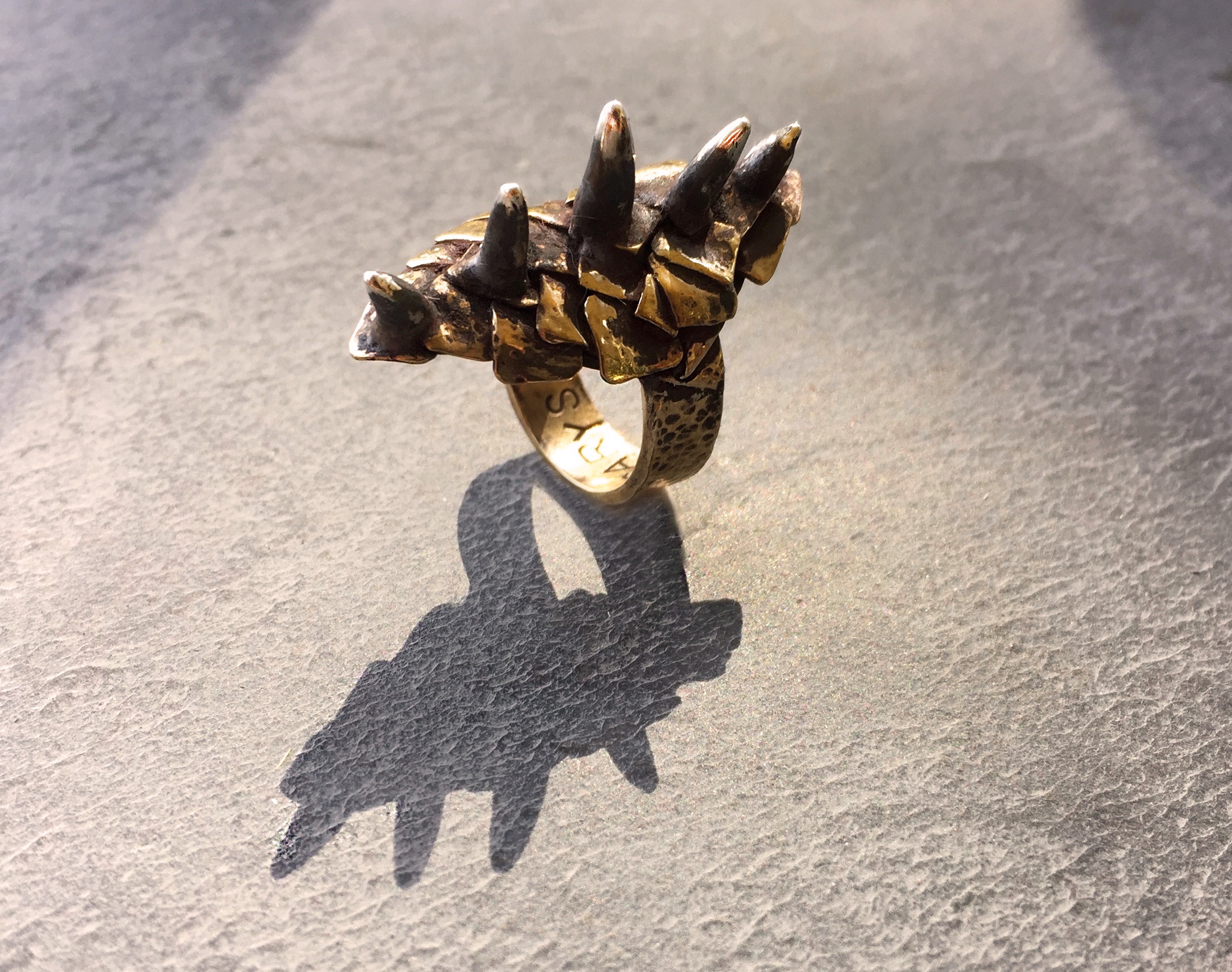 A Gift to Thranduil
Red brass, Green CZ.
Size 7
$125
Bat-tle
Red Brass, and bat skull resin cast necklace
Shield Maiden
Sterling silver, 14k gold, red brass, Ruby.
Sold
Anlger belt Buckle
Angle fish belt buckle constructed from brass, copper and a small quartz used as the Angler's light.
8.5cm x 5.5cm
$170
Magic Of Moths
A movable moth pendant. Wings close tight to it's body. Made from copper underlay and carved brass overlay. Set with a champagne cubic stone.  
When open is 7.5cm across

White Raven
Sterling silver.
Inspired by the white raven in Game Of Thrones who was the messenger in telling Westeros that 'winter is here'
Ice Wing Earrings
Double layer, sterling silver earrings, with cut outs filled with granulated silver balls and tube set cubics.  
4cm long x 1.8cm wide
From the depths
A wrap around adjustable ring, constructed from red brass, copper, and a synthetic Alexandrite. This stones changes from blue/green in natural light, to red/purple in synthetic light.

Time
Sterling silver snake, with brass and copper wheel
Sold
Memories Of Maples
Spirit Ring
Sterling silver, with 14k accents and a synthetic Alexandrite stone. The Stone appears different colours in natural and synthetic lighting (blue/green in natural and red/purple in synthetic)

Evolve
Long sterling silver chain with with Iron arrow head, lava rock, and a set cubic stone.
$250
Black Stone Stag
Black spinel, sterling silver, 18k gold chain, red brass
$185
The Bats Are Out Tonight
Resin cast bat skull, with red brass setting.
5.5cm long x 1.5 cm tall
Sold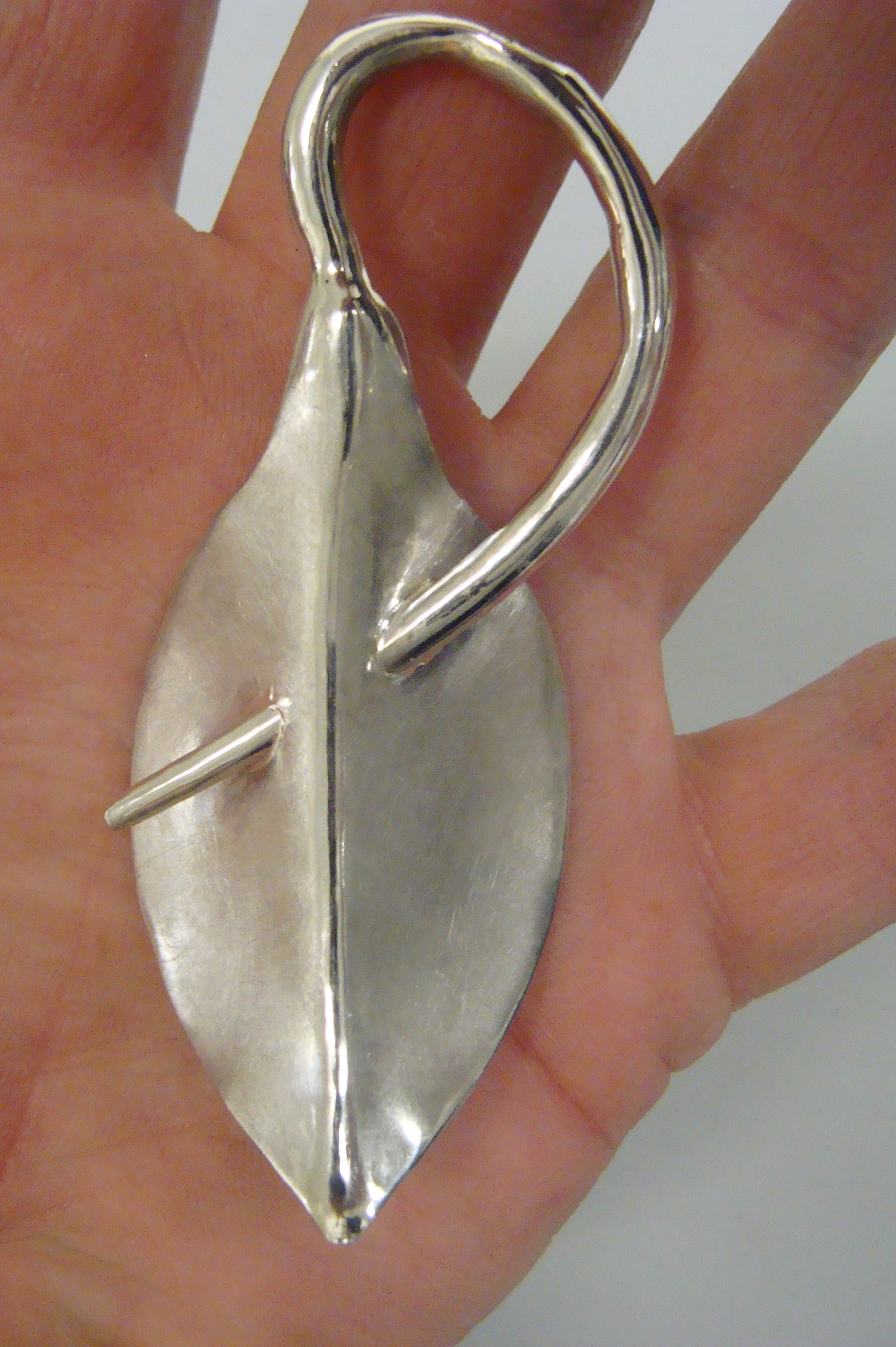 One Growth
Sterling silver leaf pendant. Fold formed, with a constructed hollow stem piercing through the leaf. 
An Autumn Accessory
Constructed copper leaf broach. Green felt sandwiched between the two panels and attached with over 20 flush rivets. 
Sigla
Garnet, reticulated sterling silver, Dix gold
size 7
$150
Crystal-Eyes
Refurbished pocket watch, placed with a creature sketch, and with a set cubic stone in one eye. Held on a brass chain
4.5x4.5 cm
Eternal
Sterling silver ring with two bands of red brass, and a tube set cubic. 
The dragon's Cave
Constructed half hollow brass bracelet, with brass granulation that fill the inside entirely around. A cubic set in a sterling silver bezel.

September
Antique style ring. Flawless, natural (non heated) cornflower blue Sapphire, set in 14k yellow gold. Ring is Sterling silver.
size 6
$450
Jewellery